Do you enjoy traveling to see your favorite teams play? Do you enjoy real talk unfettered by corporate money? Are you a fan of the University of Hawaii? Even if you answered "No" to any of those, this still might be the right place for you. Rainbow Wrap-Up is a weekly Rainbow Warrior and Rainbow Wahine-focused show brought to you by three SuperFans - Sean Eyman, Shane "Laulauhead" Agno, and Wayne Coito, who have been brought together by their shared passion and love for their team. They've been doing it since they were kids, and they ain't stopping. (Shout-Out "Total Diva's"!) Wanna travel with someone who puts "FAN EXPERIENCE" first? You can join Wayne, also TV host and credentialed sports media person for over 15 years, on the road! Already having led groups to 6 Super Bowls and 25+ adventures across the globe - including Australia, New Zealand, we do it all for GRANDMA. Come see why at www.HIsportsfans.com Mahalo for the Follow @HIsportsfans on Instagram, Twitter, LinkedIn, Facebook.com/HawaiiSportsFans....Mahalo!
Episodes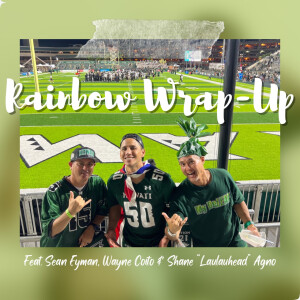 Wednesday Aug 17, 2022
Wednesday Aug 17, 2022
The episode you been waiting for: just how many wins will the 'Bows rack up this year?
Sean Eyman, Shane "Laulauhead" Agno, and HSF's Wayne Coito give their win predictions for 2022, and it just might surprise you how they go.
Next Week: join our entire crew for a live taping of the show at Ala Moana!
Agave & Vine, Mall Level 2, in The Lanai, is where we'll be for Happy Hour from 3-6 PM before beginning our show at 6:30.
Here's your chance to meet all of us, learn more about our tours and win special prizes! You'll also get a chance to offer your predictions live.
Email us at info@hisportsfans.com
Join our mailing list at www.HIsportsfans.com
Find Updates on our Social Media:
instagram.com/HIsportsfans
twitter.com/HIsportsfans
facebook.com/HawaiiSportsFans
youtube.com/HawaiiSportsFans
tiktok.com/@hisportsfans?is_from_webapp=1&sender_device=pc